1050. Occurrence – Altar Anointing of Cascade volcanoes in USA. ?>
1050. Occurrence – Altar Anointing of Cascade volcanoes in USA.
1050. Occurrence given to Raymond Aguilera on 16 May 1997.

From Prophecy #1046
Reymundo, I want you to go to Mt. Shasta and make Three Stone Altars. One to the north, one to the east, and one to the south. On these Stone Altars, I want you to pour on each Altar one pint of the best olive oil you can buy at the local store.
When I received the above Prophecy, I prayed to the Lord for a confirmation because I did not have the money for such a trip. Then within two days someone who I had never heard of sent enough money to make the Anointing trip.
After receiving the confirmation, I decided to leave on May16. I discussed the trip with Ron Viessman and asked him if he wanted to go, but he had some class exams the following week. After discussing the trip farther, we came up with the idea of having Ron follow me to Mt. Shasta on Friday, and have him return by Sunday, in this way we could use his Jeep on the dirt mountain roads around Mt. Shasta, after the Anointing the Altars. For we both knew my car was not able to get through the mountains roads to the locations that the Lord wanted Anointed. We began to prepare and left at 1:00 PM. on Friday May 16.
As with the other such trips the spiritual warfare began to increase. Even now, for several days I have been trying to type this material for the Prophecy Book, and the spiritual warfare has really increased. I wonder if Christians really know this type of spiritual warfare. For I have never heard of it taught or mentioned in churches. It seems all I ever hear in churches is your going to be blessed, your going to be blessed, but never about the reality of Satan and his forces. Oh well, lets move on.
Mt. Lassen Altar Anointed on 16 May 1997 about 4:30 PM
When we arrived at Mt. Lassen, we found the Park road up to the Mountain closed due to snow, but the area that the Lord wanted an Anointed Altar built was open. So we collected the first stones for the first Altar and Anointed it and prayed at the site, and left for Mt. Shasta.
Mt. Shasta South Altar Anointed on 17 May 1997 at 1:00 PM
When we arrived in Mt. Shasta City we parked my car and left in Ron's Jeep, and purchased the Anointing Oil at a local store and proceeded toward the dirt mountain road (logging road). Once we arrived at the first Mt. Shasta location (South side), we had Communion and Anointed each other with oil. Then we built the Altar to the Lord out of the local stones, and Anointed it with the olive oil. For some reason I was led to photograph the Anointing Altars. As we had expected the logging road was very bad. In some areas the Jeep almost could not go through for the road was very narrow. At one point we had to build a rock bridge to cross this stream of water to get to the second location on the East side.
This rock bridge took us about 2 1/2 hours to build. We needed it to get to the other side to build the Eastern Altar.
Mt. Shasta East Altar Anointed on 17 May 1997 at 4:00 PM
It took us about 2 1/2 hours to build the rock bridge and another half an hour to get to the second location. It did cross my mind several times. "What in the world are we doing out here?" We were pretty tired after building the rock bridge, but we built and Anointed the second Altar to the Lord on the East side of Mt. Shasta. I photographed it 6 days later on my return trip home for I had run out of film after I had photographed the first Altar on the South side of Mt. Shasta.
Mt. Shasta North Altar Anointed on 17 May 1997 at 5:00 PM.
We found the third site a sandy road off of highway 97. We searched for stones and built the Altar on the North side of Mt. Shasta as we had done the other two sites with an opening on the top to hold the upside down bottle of Olive Oil. But at this Northern Altar the Lord instructed me to make a 6 foot Cross in the dirt in front of the Altar extending North. So I carved a large 6 foot dirt Cross with my shoe on the ground surface extending North. Then the Lord instructed me to walk around the Cross and the Altar Three Times. So we started to walk around the Altar and Cross in a counter clockwise direction, and the Lord stopped us, and told us to walk around the Altar and Cross in a clockwise direction. After we had walked around the Altar and dirt Cross Three Times, the Lord said, "The Cross represents the Hammer that was going to be used to nail the coffin of Satan."
Then the Lord instructed me to take the bottle of Wine that we had purchased for Communion and to pour it over the image of the Cross. So I pour the whole bottle of Wine over the image of the 6 foot Cross. Then the Lord said, "The Wine represents the Seal of the Lord."
Then Ron took me back to my car and he went home, and I proceeded to Anoint Crater Lake and Mount Saint Helens as per the Lord's instructions. Since now I was in my car with some photographic film, and on the way to Crater Lake, I returned to at the Northern side Altar, and photographed the Altar and Cross. For it was close and just off of Highway 97.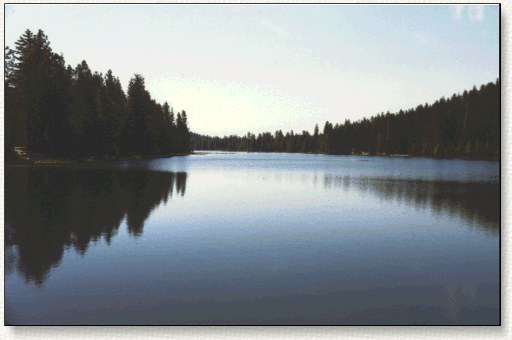 Here is my first camp site was Lake Juanitia. I stayed here when I was going to Crater Lake and when I drove home from Mt. Hood.
Crater Lake Altar Anointed on 18 May 1997 at 3:10 PM. (Sunday)
When I arrived at Crater Lake, I found most of it under snow. This made it harder for me because I could not find any stones, and wherever the ground was showing there were people everywhere. But I finally found a place and built an Altar and Anointed it next to the road. This Altar was much smaller, but I Anointed it in the same manner, in the Name of the Father, and of the Son, and of the Holy Spirit. This spot that I found was on the top rim of Crater Lake. The next stop was my sister's house for a stay over and prayer for direction for the other locations or Mountains.
19 May 1997 (Monday)
On Monday the Lord instructed me to go to Mount Saint Helens. I arrived at Mount Saint Helens late so I camped there for the night.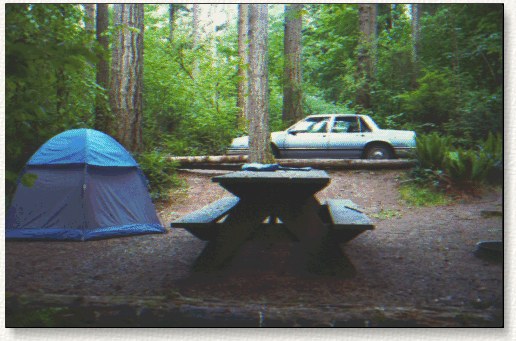 I camped at Seaquest State Campgrounds going to Mount Saint Helens, and on the way back from Mt. Rainier.
20 May 1997 (Tuesday)
In the early morning hours before the sun came up, the Lord SURPRISED me, and woke me up. He told me to fill my air mattress with air. (I hadn't been blowing up the air mattress, and only using it to lay my sleeping bag on it, to keep any water out that might come under my tent.) During this communication with Lord, the Lord wrote in the Spirit the name "HOOD" in capital letters, which told me to go and build an Altar at Mt. Hood. Then He wrote the letters "OK" over the words "Mt. Rainier." So now I knew, I had to go to Mt. Hood and Mt. Rainier after I Anointed the Altar at Mt. Saint Helens. This information was good because I was planning on going home after Mt. Saint Helens.
You have no idea, how hard it was for me to get my tired body out of that warm sleeping bag, and blow air into that air mattress that night, but I did it. Then I tried to get some sleep, and wondered why the Lord wanted my air mattress filled with air. I might add here, that the Lord did frighten me little for I was in a dead sleep state when He awoke me. For after replacing the front brake shoes on my car in front of my sister house that morning, and driving straight for about 5 hours, I did not expect to be awakened in the early morning hours. I'll never understand the "why" of some of these things.
Mt. Saint Helens Altar Anointed on May 20 at 12:30 PM.
At Mt. Saint Helens, I was not allowed to get any closer to the mountain than the distance we were from Altars we built around on Mt. Shasta. I hiked about .8 of mile along a trail next to a cliff facing the side of where Mt. Saint Helens blew up. I Anointed the Altar at Mt. Saint Helens at 12:30 PM and photographed the site. All of these photographs will be placed on the web site soon, I hope.
Mt. Rainier Altar Anointed at 4:55 PM.
I Anointed the Altar at Mt. Rainier high on the Volcano's southern side. I had a hard time here too finding some clear ground without snow, but I found a spot near the road.
Mt. Hood Altar Anointed on 21 May 1997 at 1:54 PM.
At Mt. Hood the ground was also covered with snow, and I had a hard time finding clear ground with some stones for the Altar, but I found a large rock over hanging a cliff off the road. So I carefully climbed on to it, and built and Anointed the Altar there. I had to be very careful for this cliff went down hundreds of feet. But over this large hanging rock the Altar was built, and I headed for home.
I was also hoping to back track for 2 hours and stop long enough to photograph the Eastern Altar at Mt. Shasta, the only Altar I had not photographed because I had run out of film. I was frightened of this because it was suppose to rain that afternoon, and I didn't have Ron's Jeep. If I got caught on those dirt logging roads during a rain, I wouldn't be able to get out until the muddy roads dried out. For no one else would be able to use the roads either. But I figured, I could get in and out in 2 hours if I didn't get lost, and getting from that side of Mt. Shasta the roads were a little better. Well two times, I almost decided to return and try to find the Highway 97 for thought I was lost, and the weather looked pretty bad. But I kept praying and praying to the Lord to help me, and He did so. I photographed the Eastern Altar and headed out for home. Praise you Lord!!!
I kept wondering while I traveled across California, Oregon, and Washington, why did the Lord need me to Anoint these places in the first place? And the only answer that even came close was, "He told me too, so I had to do it." Who really knows the Mind of God. (over)

---
e-mail: Ray@prophecy.org
To help support this ministry click here.  
or write to: Raymond Aguilera, PO Box 20517, El Sobrante, CA. 94820-0517, USA.
To order the Prophecy Books Click on the Book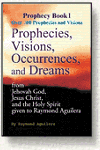 To help support this ministry by purchasing one of our painting Click here.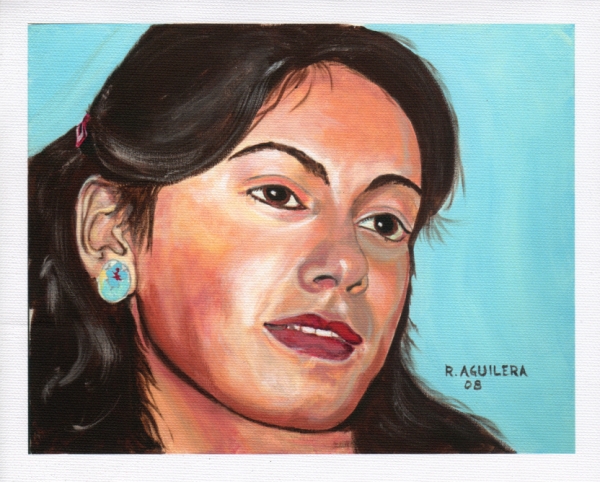 Artwork Youtube Video


To view Raymond Aguilera's artwork Click here
Copyright © 1989-2013, Raymond Aguilera, Prophecy.org (sm) All Rights Reserved

---